GARLAND – Colleyville Heritage had trouble on Friday against Liberty Hill's front row as the Panthers' season came to an end in the Class 5A state semifinals 20-25, 25-23, 23-25, 21-25 at the Culwell Center.
Heritage, the defending 5A state champ, finishes with a 40-11 record.
However, CHHS posted back to back trips to the state tournament and at least 40 wins for the third consecutive season under head coach Josh McKinney.
Liberty Hill (46-8) will play in the 5A final at 3 pm Saturday.
All world athlete and BYU commit Suli Davis nearly registered a triple double with 22 kills, 14 assists and nine digs. Senior Maddie Bird – in her final HS match – posted her third straight double double with 12 kills, 14 digs and four aces.
Sarah Mendoza chipped in 26 digs and freshman Claire Bundy added 24 assists in her first state tournament game.
Colleyville, which won its first title last season with a win over Frisco Reedy in the final, went toe to toe with Liberty Hill in the opening set and even led 8-6. But LHHS responded with a 10-0 run that included five straight Colleyville errors and six overall to go up 16-8.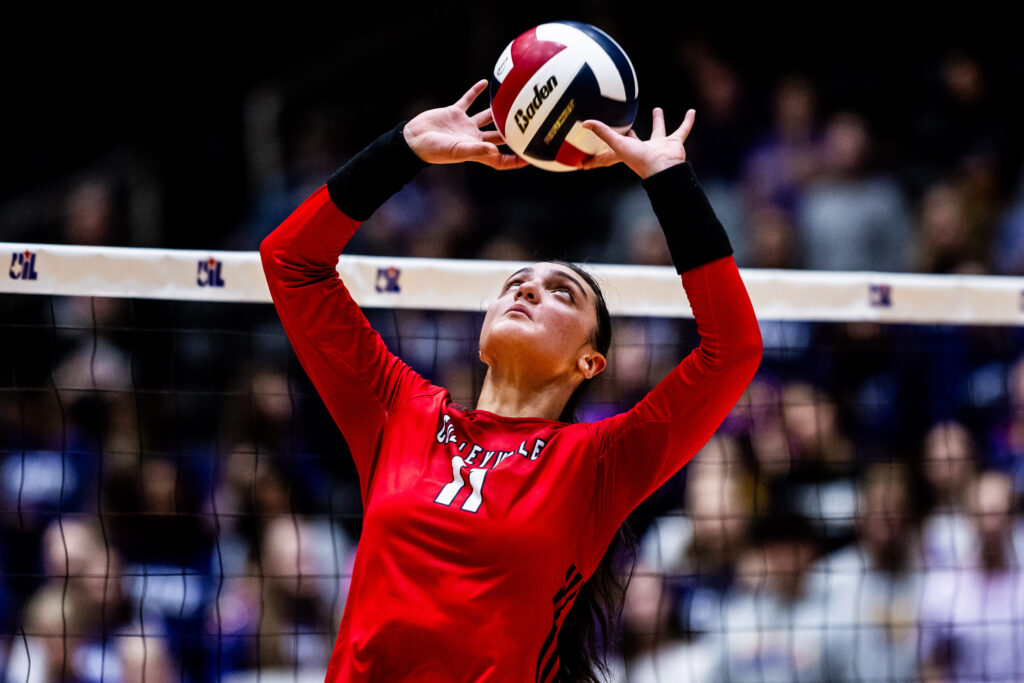 Kills by Bird, Davis and Zara Mujtaba helped CHHS stay within distance at 19-12. Then Colleyville scored six straight points with kills by Davis and Mendoza and an ace by Mendoza to force Liberty Hill to call a timeout at 22-19.
But LHHS closed it out with a kill by Annie Witt and Taylor Gaines for a 1-0 lead.
The second set was evenly matched with 10 total ties.
Liberty Hill went ahead 21-17 on a kill by Gig Mason to force a timeout, but Heritage came out with the next seven points to grab set point at 24-21. Bird was huge during the run while holding serve. She got a kill and back to back aces that helped tie it at 21-21. After a LHHS timeout, kills by Audrey Popp and Davis gave CHHS a 24-21 lead. Liberty Hill pulled within 24-23 before Davis smashed down an assist by Bundy.
Colleyville started the third set on fire with the first four points on kills by Popp and Bird, and an ace by Bird, and then led 7-3. But Liberty Hill rallied and pulled within 9-8. Liberty Hill trailed 15-10, but responded with six of the next seven points to make it 16-16. Kills by Bird and Amagine Gardner gave CHHS an 18-16 lead.
After a pair of ties, Colleyville committed back to back errors and Liberty Hill led 22-20. Two kills by Davis and one from Bird tied it at 23-23 before LHHS closed it out to lead 2-1. Liberty Hill used a 7-2 run to go up 11-5 in the fourth set.
Kills by Nita Davis and Bird, and two errors by LHHS pulled Colleyville within 11-9. The lead grew back to 18-11 as Liberty scored five of six points. CHHS wasn't out yet with a 6-1 run helped by four errors on Liberty Hill to pull within 21-19.
A kill by Bird and LHHS error got Colleyville within 24-21 until Gaines' kill went through the CHHS block for the win. This is Liberty Hill's fifth trip to state and second straight. LHHS came in 0-4 in state tournament games with only one set win.
Liberty Hill was led by Witt's 12 kills and 17 digs. Mason and Kealy Dirner each had 10 kills and Ava Hight and Carson Glenn combined for 39 assists. Ava Kostroun had 11 block assists and LHHS had 28 block assists as a team.