GARLAND – If you don't know the name Gentry Barker – you will after Saturday.
Barker, a freshman outside, started her state tournament legacy with championship game MVP honors during the Leopards 25-18, 25-23, 25-19 sweep over Liberty Hill in the Class 5A title match on Saturday at the Culwell Center.
Barker posted a double-double with 17 kills and 11 digs, and added a 0.306 clip with two assists and one ace. The win was Lovejoy's 10th title in program history.
Lovejoy improved to 10-1 all-time in state title games.
The trip to state marked the program's 13th overall. The school opened in 2006 and the first season came in 2007. The first title followed in 2008. Lovejoy (34-10) became the fifth school to reach 10 titles in UIL state volleyball history joining Windthorst, East Bernard, Jewett Leon and Amarillo.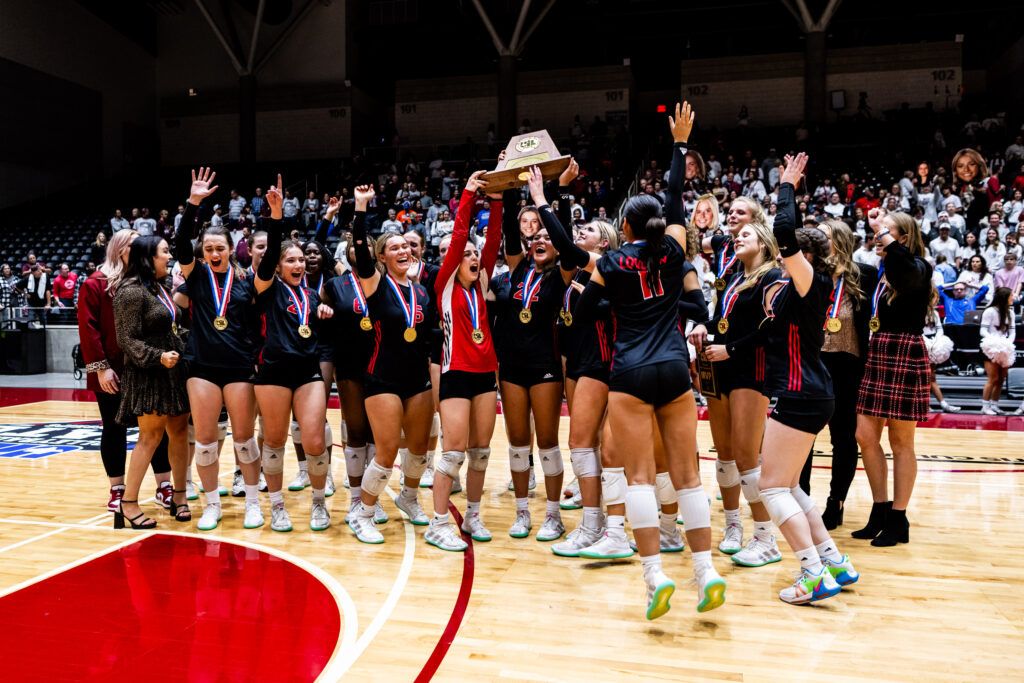 Despite sweeping Fulshear in Friday's semifinal round, Lovejoy didn't play its best game. The team hit 0.260 and committed 11 hitting errors and six serve receive errors. Of course, the Leopards were helped by a poor performance from the Chargers.
However, coach Natalie Puckett made sure her team came out a lot stronger on Saturday. The team hit 0.324 in the opening set. Shelby Burriss (Princeton) gave Lovejoy its first lead at 6-5 with one of her 12 kills. Lovejoy pulled away with a 6-0 run to lead 23-14 that included kills by Barker and SadieJane Hand, and three Liberty Hill errors.
Bethanie Wu (Yale) capped it off with an ace.
The Leopards came out even stronger in the second set with a 5-1 lead and 8-2 lead. Skylar Jackson, Burriss and Barker each had a pair of kills and Wu added one to make it a six point edge. An attacking error on Lovejoy trimmed its lead to 12-11 before the Leopards scored four straight to go up 16-11.
Jackson had a kill and Barker served up an ace.
Liberty (46-9) was able to tie it at 20 and even took a 21-20 lead on two Lovejoy errors. Kills by Barker and Hand pushed Lovejoy ahead 23-22. A service error tied it at 23 before Jackson and Burriss capped it off with back-to-back kills for the win.
Liberty Hill had its biggest lead of the night, 7-3, in the third set following an ace by Ava Hight. But Lovejoy scored the next four to even it up with two kills by Burriss, an error on Liberty and an ace by Kalin Carlson.
The teams squared up again at 8, 9, 10, 11, 12, 13 and 14 before Lovejoy started to pull away. The Leopards scored eight of the next nine to break a 14-14 tie and turn it into a 22-15 lead. Jackson picked up a kill and ace and Barker and Burriss posted kills during the run. Liberty managed four more points before Anna Barr got a kill for the match.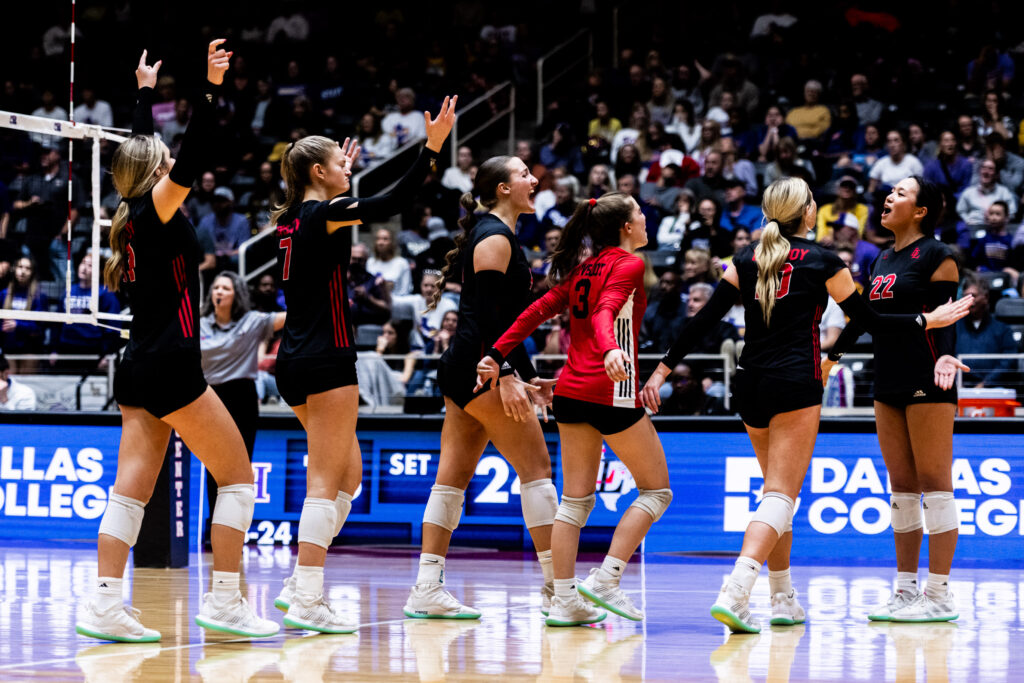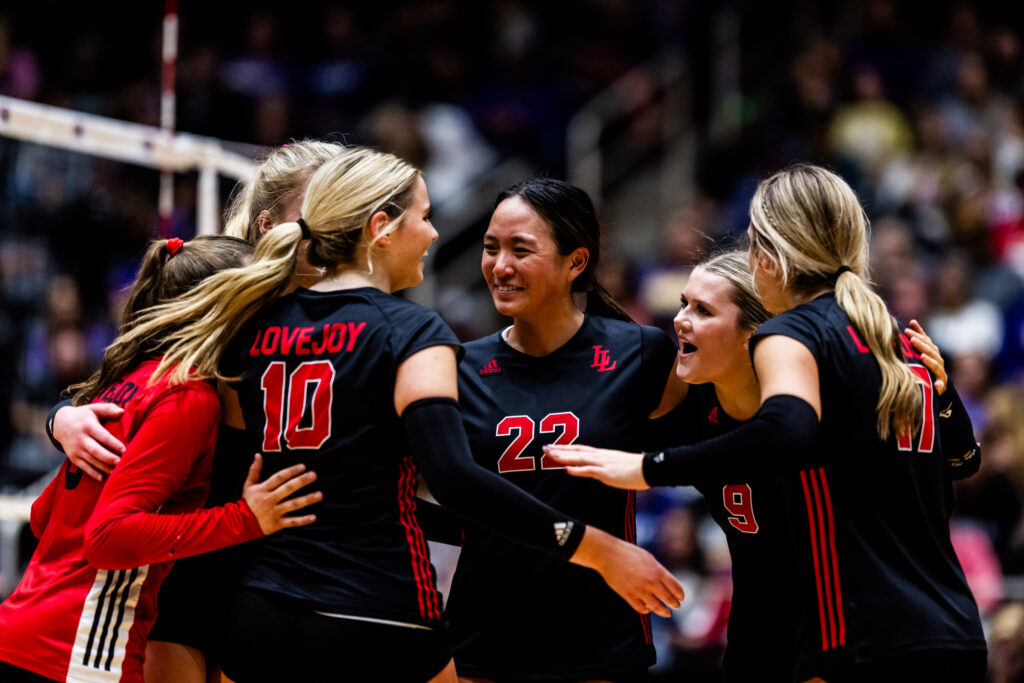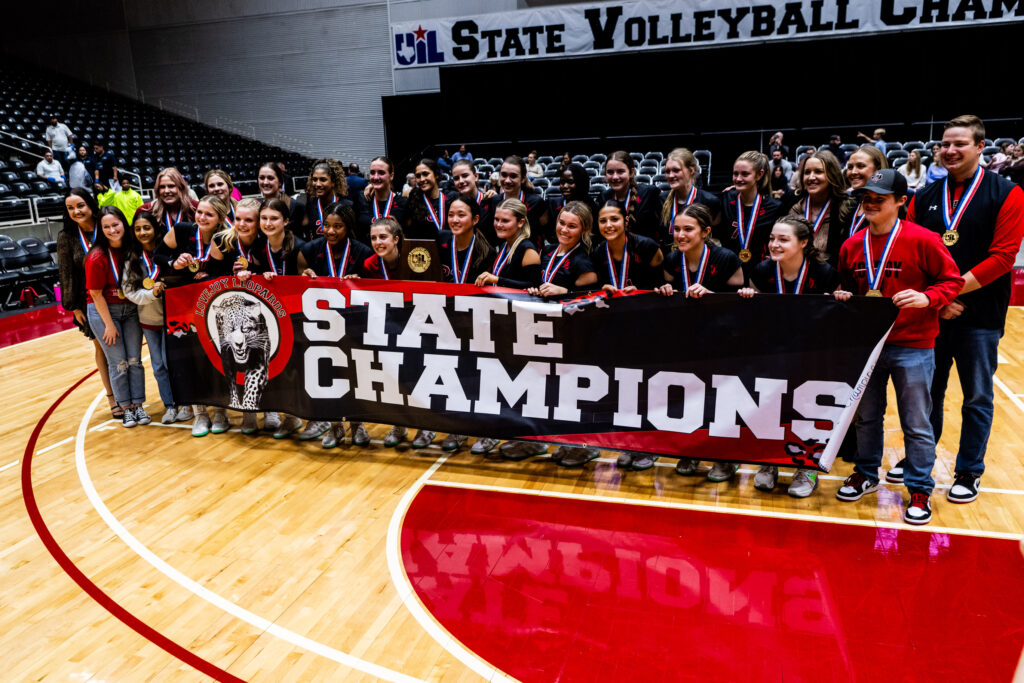 Burriss hit 0.357 and Barr, Jackson and Hand each had six kills. Jackson had eight digs. Wu posted 40 assists, 10 digs, three kills and one ace. McKenna Brand (UConn) added 21 digs. Carlson chipped in eight digs.
Liberty Hill, in its fifth state appearance, defeated Colleyville Heritage 3-1 on Friday. The Panthers, who also made the trip last season, was playing in the title match for the first time. They were led by Annie Witt and Taylor Gaines, who both had nine kills. Hight and Carson Glenn posted 14 assists apiece.
They had three with 10+ digs (Witt 11, Brooklyn Escobar 11, Kealy Dirner 10).
But Liberty also struggled with a 0.167 clip including 0.086 in the first set.
Puckett wins her sixth state title – three as a player and three as a coach.
She helped Lovejoy to its first three championships in 2008, 2009 and 2010. Then she was an assistant on the 2020 title team and won her first as a head coach in 2021.