GARLAND – Blum shook off a rare set loss to defeat Harrold 25-12, 25-15, 19-25, 25-13 and defend its UIL Class 1A state championship on Thursday at Culwell Center.
The Ladycats go back-to-back and end the season 40-7 – a program single season record in wins. Senior setter Ruby Rumohr was voted state champ MVP with a Class 1A state tournament record 45 assists and her second straight state tournament double-double adding a game-high 21 digs.
Rumohr had 29 assists and 13 digs in Blum's 3-0 sweep over Neches in Wednesday's semifinals.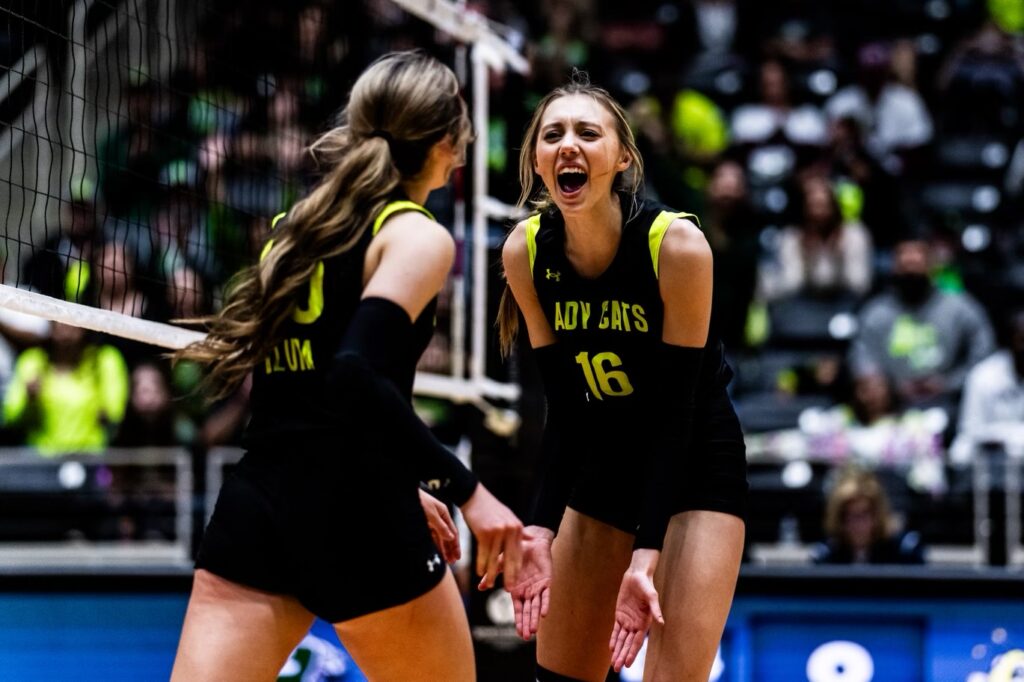 The Ladycats, making their fifth straight state tournament appearance and sixth overall, scored seven straight points to extend a 9-5 lead into a 16-5 lead. Kills by Addison Willingham and Kinsley McPherson, and two aces by Payden Sanders highlighted the run.
Kills by Willingham, Emma Scott and Jayden Galbraith pushed the Blum lead to 20-7. The Ladycats continued to roll in the opening set with a kill by Galbraith on set point. Blum posted a 0.536 hitting percentage in the first set and committed only one hitting error.
Harrold, making its first trip to state, came out a lot stronger in the second set as the Hornets led 7-3, 8-4 and 9-5. But back to back errors and another ace by Sanders pulled Blum within 9-8.
Trailing 12-10, Blum managed to close out the set on a 15-3 run.
Tied at 13-13, Blum scored five straight to grab an 18-13 margin. Rumohr scored on a setter's dump and libero Kayden Arrington served up back to back aces. Blum finished with 13 total aces – just like on Wednesday vs Neches.
Kills by Willingham and McPherson and a pair of errors pushed Blum to a 2-0 lead in the match. Willingham led the team in both state games with 15 kills on Thursday and 14 on Wednesday. McPherson, the sophomore daughter of head coach Lauren McPherson, had 12 kills and 17 digs. She was state champ MVP last season after helping Blum to its first state title.
Then Harrold did something very few have done – give Blum a set loss. The Hornets scored the first three points in the third with a kill by Flo Richardson and ace by Emma Box. Blum also didn't have a single lead in the third set, which doesn't happen very often.
The lead was five twice – at 10-5 and 21-16.
The Harrold kept it going.
Richardson had three straight kills to push the lead to 24-16. Then a fourth kill on set point by Richardson extended the match for the Hornets. Richardson led the Hornets with 17 kills and seven digs. The last set Blum dropped came on Oct. 27 against 3A Fairfield and the loss was the first of the season against a fellow 1A program.
The last two times Blum dropped a set against a 1A team came against Fayetteville – on Aug. 16, 2022 and Nov. 18, 2021 during the Class 1A title match.
But it's as if McPherson and her Ladycats took that personally.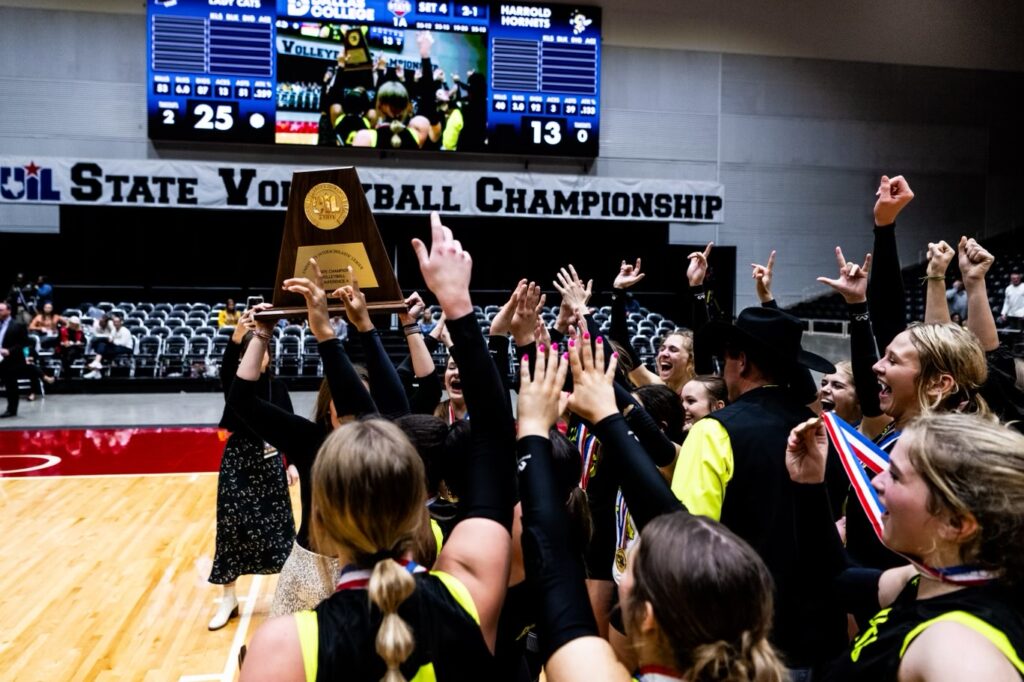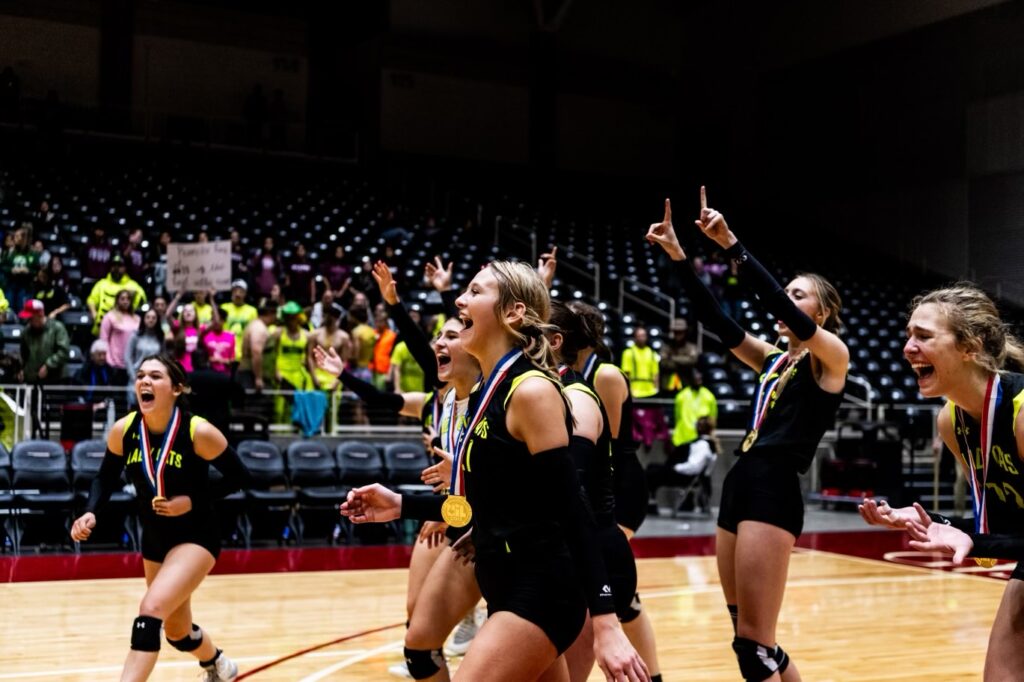 Blum led 7-2 in the fourth set on a hitting error by Harrold. Then it was 10-4 on a fourth hitting error of the set by the Hornets. Galbraith's kill and an ace by Skylar Allen push the lead to 12-5. Three in row by Blum with a kill from Willingham made it 15-7.
McPherson's kill and two aces by Rumohr pushed it to 18-8.
Sanders' kill put Blum at 20 and the Ladycats closed it out with two kills by Willingham, a kill by Rumohr and an error on match point to send the team storming onto the court. Sanders added four kills, 13 digs and three aces. She had five aces vs Neches.
Allen and Rumohr also served up three aces.
Galbraith chipped in six kills and Arrington had 17 digs.
Blum set multiple Class 1A state tournament records. Rumohr's 45 assists broke the previous mark of 41 set in 2018 and 2019. The Ladycats 51 total assists broke the previous record of 49 set by Bronte in 2016.
Blum had 53 kills as a team – one shy of tying the mark of 54 set by Bronte in 2016.